Mark Pleasant formed Small Wonder Studio (SWS) right out of college in 1973, and never looked back. Since then he has been producing, directing, and shooting original productions, music videos, TV commercials, documentaries and 3D animation for clients around the world.
Located in Nashville Tennessee, SWS has worked with many of the record companies, clients include: RCA Records, Curb Records, BMG and Disney's Lyric Street Records also many independent labels. Mark has served as a lighting cameraman for ABC's "Good Morning America" and for the CBS Television Network when they came to Nashville. Working in film & video and digital-media, Mark has tackled a variety of production assignments, and in all of this he has also become a long-time iClone advocate.
"Just when I thought things might be slowing down for an old geezer like myself, things are busier than ever. And I have to say that a lot of the credit goes to the folks at Reallusion with that amazing product… iClone!" – Mark Pleasant
Q: Hello Mark, and welcome to the Reallusion Feature Stories. Could you talk about your background, your work and your vast experience?
I guess I always new I would pretty much work for myself. And I have never had the desire to evolve that into a big company. I like to keep things small and manageable. I guess I don't really like the pressure and the lack of control that can come with big companies and big projects. Especially when you have a lot of executive producers all around… (laughs)!
My educational background was in Art & Design. But the little college I was attending back in the early 70's didn't have a photography or film program. And that was beginning to peak my interest at that time, which was really always there from a young age. I used to make 8mm movies with my buddies back in middle school and high school. The only difference was that I would charge my actors a dollar to be in my movie so I could pay for the film and processing. I don't know why that method of filmmaking never caught on!
Now back to college. So with the help of one of my instructors we built a darkroom and I cobbled together an animation stand and started doing animation, photography and film projects. After college I was hired as an illustrator and photographer for the State of Tennessee.At the same time I created Small Wonder Studio, a freelance production company doing photography, graphics and a little film. I started going to the free concerts that are always going on here in Nashville and always with my 16mm Bolex, making short films, in general promoting myself, as you have to do in any business.
By 1980 I was into Small Wonder full time, working with corporate clients and the record labels here in town. I also taught film and multimedia at the technical college part time and that was great fun. Getting to meet young students and sharing the little bit of knowledge I have has always been something I really love to do. A few of those students went on to really great things here in Nashville and nationally. One in particular has more national EMMY'S and awards than I can count!
Years ago I remember one university workshop I was doing on lighting, I was holding forth, I was just brimming with cinematic information and glanced at one of the participants in the room, and it was an older gentleman wearing this jacket with an A.S.C. patch on it which I recognized immediately… The American Society of Cinematographers. Now this is an association for which you have to be invited to join by other legendary Hollywood cinematographers. He was Clifford H Poland Jr. – a Hollywood DP who had done many features and even the old television show "Flipper" which I had loved as a kid. Well I was about to turn so many shades of red that you couldn't imagine, but he was the most gracious guy you could ever want to know.
Around 1987, I got to shoot a documentary film in eastern Turkey following the exploits of the late Ronald Wyatt a famous "Indiana Jones"-style Ark hunter. That was an experience that I'll never forget. There's nothing like trying to film with a crew, a small crew mind you, but a crew nonetheless, in the valley of Mt. Ararat while you're watching a Kurdish fighter approaching you with a rifle. We did make it out OK and filmed a 500′ petrified man-made boat structure half buried in a mountain side across from Ararat. I'm not sure what it was but unless it is the Ark it really shouldn't have been there.
Q: You've got quite an impressive resume including working with acclaimed filmmaker Thomas Neff, and even being a Regional Emmy Award winner. Please tell us a bit about all of this.
I was working on a video project for a stage play (shades of Animated Projections) and this real sharp gal – Madeline Bell, wanted to pick up some tips on production. Well we ended up doing a documentary film on the sculptor Alan LeQuire who was doing a full sized statue of Athena for the Parthenon replica we have here in Nashville. I really didn't have a great deal to teach her and she quickly got into the full swing of film production and ended up working with Tom on a host of fabulous films. Since then she has gone on to do major projects in Hollywood working with Steven Spielberg at one point.
But that's how I got involved in helping shoot part of the OSCAR nominated Red Grooms: Sunflower in a Hothouse (1986) film, and the Frederic Remington – The Truth of Other Days film, shot in Montana for the PBS "American Masters" series. This was the first high definition documentary film made in the US. We had this huge Volvo truck out of New York with reel to reel recording equipment in it. The camera was as big as a small refrigerator, the cable was as big around has my thigh (maybe not quite that big) and we were shooting "run & gun"! It was especially scary when we "grabbed" a shot in Yellowstone park of this buffalo. I was wrestling the camera in place and Tom was holding this big stick in case the buffalo charged. What a picture that would have made. What fun!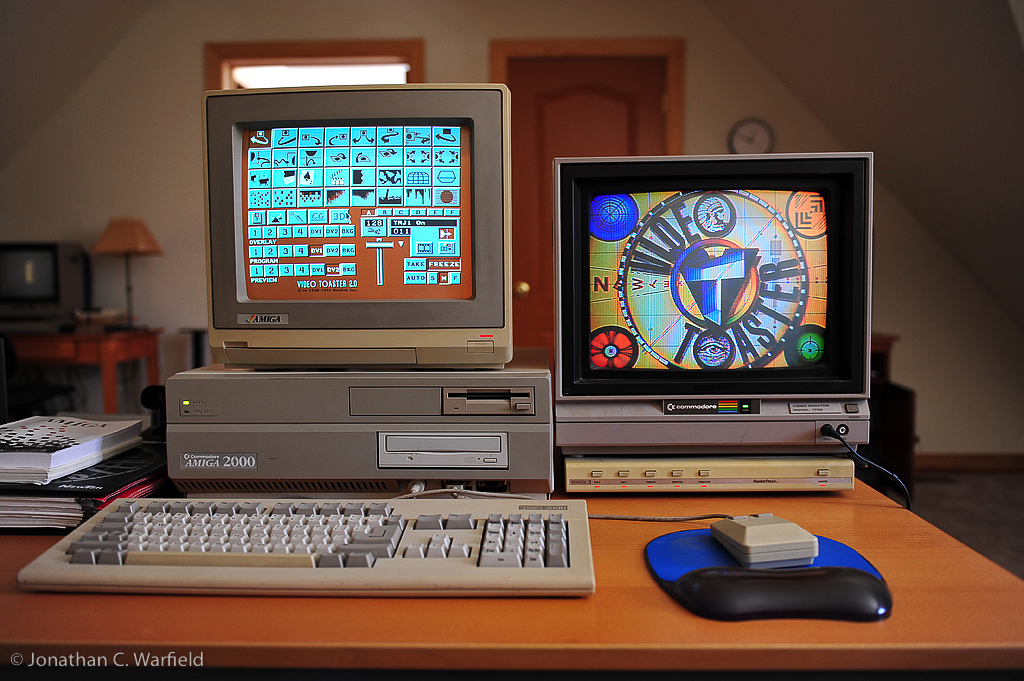 I got into 3D about the same time as a lot of folks. Around 1988 the Video Toaster from NewTek and the Amiga computer really revolutionized the world of computers, video and 3D animation. I started playing with Lightwave 3D which came with the Toaster.
I did a few small projects and worked with Mike Halsey to do a series of commercials for Viacom Cable, and low and behold they won the Reginal EMMY for animation that year. It was really Mike's skill that made it happen, I just tried to tell him what I wanted. Mike later on formed Magnetic Dreams a company which does extremely high-end media projects. Mike's a fantastic talent.
* In 1996 Mark received a Regional EMMY award for his design and direction of a series of animated TV spots for Viacom Cable.
Q: Since 1988, you have been working with 3D computer animations and graphics. How did you discover iClone? Any thoughts on the evolution of iClone? What makes Reallusion tools stand out from the rest?
Well there was a point I just had to put 3D on the back-burner. I wore a lot of production hats at that time and really didn't want to focus on just one thing. If you're going to get really good at 3D, as with most stuff, you really have to live it 24/7. I did a project for Bridgestone Tire Company it was a very complex project, for me, and it came out good but it just took weeks to pull off. I just couldn't afford to do that, spend so much time on one project. In those days we didn't have the resources we have now. Now we have render-farms but that wasn't really an option back then and you had to consider a client's budget. Rendering was such a pain if you didn't have the latest, fastest computer. So I dabbled and just let it be a little side thing, not really my main focus.
Then I discovered iClone around 2009 I guess. I'm trying to remember how I discovered it, maybe a YouTube video or something like that. Bottom line, I was hooked. Getting back to the fun of 3D, which had long since disappeared. Now to be honest I did find it a little buggy, at least on my system, but that didn't dissuade me in the least. I spent a few years just having fun doing little short iClone film projects like the "Tesla" episodes… I've got to get back to those!
In the last few years I started getting a bit more serious with iClone. In 2016 I finished a project for DANON Yogurt related to the summer Olympics and lately I'm doing a bit of corporate work for Hospital Corporation of America. The big factor is that iClone is getting better and better. The output is getting so much better and the features just keep boggling my old brain.
"iClone has proven to be the perfect software package, as it can achieve stunning results at a fraction of the time" – Mark Pleasant
What made iClone the go-to program for me was, of course the speed at which it rendered. I used to wait hours for one frame. Next came the ease of use, and the quality of the output. iClone really has come such a long way. And I know that it will only get better with each version. I'm having a good bit of fun with iClone PopcornFX at the moment. There are just so many cool features to try, and the endless variations I have a hard time tearing myself away!
Q: Besides Small Wonder Studios, you also own Animated Projections. How did this second company get started? Do you have any tips/suggestions for iClone beginners that wish to follow in your success?
I really backed into Animated Projections completely by accident. I mean I had always loved creating scenes in iClone, distant locations, other world vistas, places that you may not be able to visit in real life. This type of 3D scenic creation is the perfect backdrop for a stage production and a perfect fit for iClone. I was really clueless when a local stage director came to me a few years back and wanted some images to video-project as backdrops for her production of The Wizard of OZ.
I really had no idea that the video projector was being used so extensively in the theater. But the more I thought of it the more I felt that using iClone to animate scenes would work perfectly. Luckily I had a few months to design something. I did about 40 or more iClone animations. Now there aren't that many scenes in the play but I took a more cinematic approach in that I created moving camera shots that lead into a static camera shot. So the scene can start on the screen and then the actors can come on stage as the shot becomes more stationary. Now there's still movement where appropriate even in a static scene but you can set up the scene on stage with something like a dolly shot for instance.
This slideshow requires JavaScript.
It's very much like a movie coming to life. So any given scene on stage can have a number of animated "clips" to play during that time. I have to say it was a huge hit and before the play even began here in Nashville a director in London saw my "OZ clips" on YouTube and wanted to buy the collection. I was a bit stunned. To date my clips have played in theaters in the United Kingdom, Australia, New Zealand, South Africa, Canada, India, United Arab Emirates… oh and the U.S. too. I'm still a bit stunned. A friend helped me build a website to get things started. We're still tweaking it but it's getting off the ground.
From the first time I started playing with iClone people would ask… "But can you make any money with iClone?" And I have to say – of course! There are things that this software is particularly suited to and it does what it does in spades. Now with Animated Projections I would love to say I thought it all out and planned everything from the beginning, but it was completely an accident from the get-go. I did see the potential of the idea however, not that I'm the only provider of animated scenic backdrops mind you. But I have this fantastic software package iClone, the vast product line of the marvelous content providers in the RL Marketplace. Now add to that my limited modeling skills when needed, and you have a formula for success… I think.
In truth the software itself helped determine how Animated Projections should go and I just went along for the ride. iClone by its very nature lends itself to creativity and when the right people see that, it's bound to get results.
Q: You have done everything from animation featurettes, to contest entries, to iClone tutorials and so much more; what can the community expect from you in the near future?
Oh my! Lord willin' I hope to keep doing what I'm doing for awhile. Animated Projections is really starting to take up a great deal of time and that's good and bad. I don't get to experiment as much as I used to, and I'll have to do something about that. The good thing is that working with iClone is still FUN!
A lot of new folks have found iClone and what I'm seeing from them is just mind blowing. They are pushing iClone to a much higher level than I ever achieved and that's the way it should be.
So… what to expect from me? Let's just say I'm… keepin' it animated!
—————————————————————————————————————————————–
To see more or Mark's work, please visit >>>
Website: http://animatedprojections.com/
YouTube: https://www.youtube.com/user/SmallWStudio
Vimeo: https://vimeo.com/user2865878